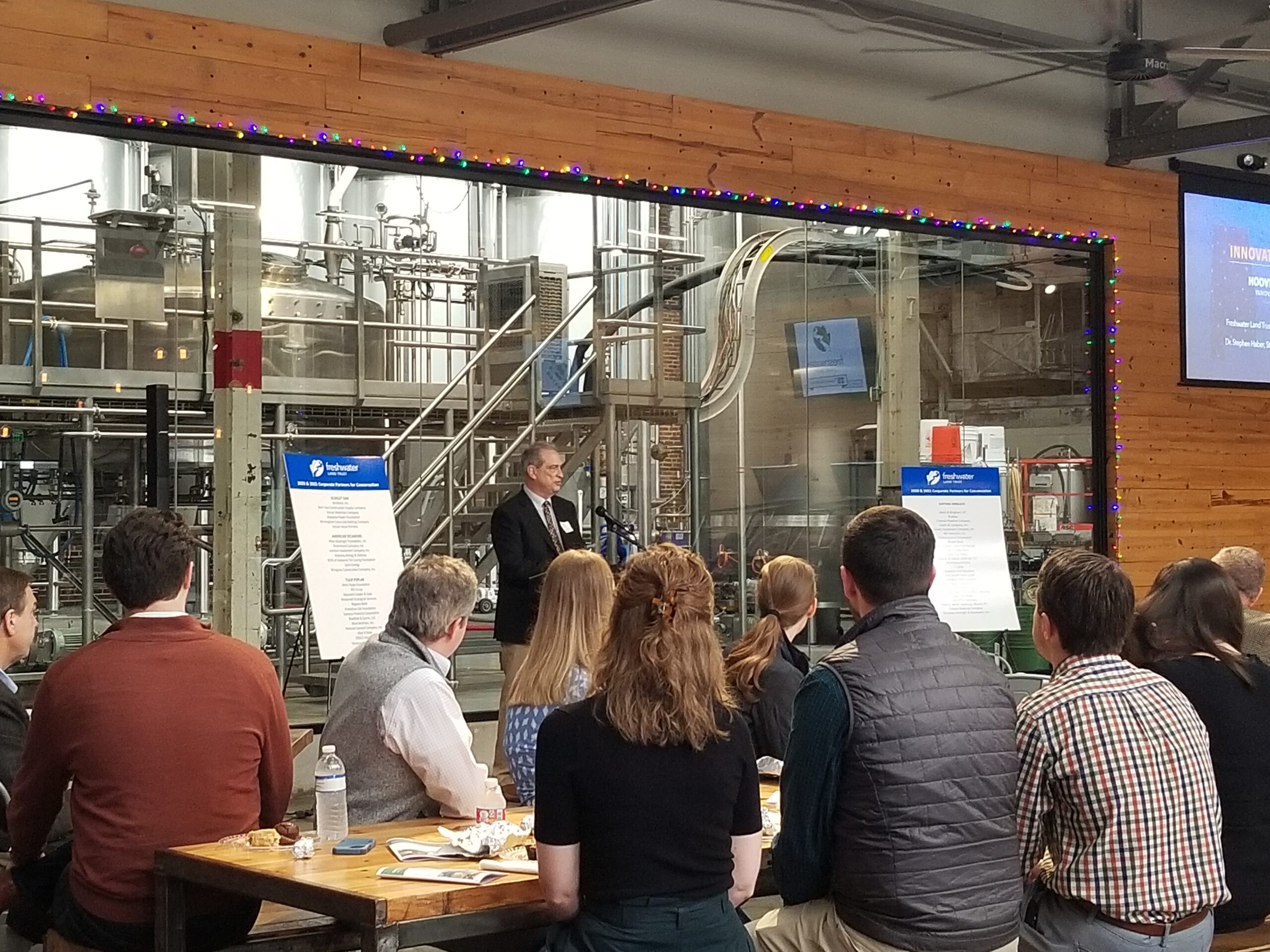 On December 10th, Freshwater Land Trust celebrated our 2020 and 2021 Corporate Partners for Conservation, as well as our organization's 25th anniversary. We were grateful to welcome our partners to an in-person breakfast to thank them for their support.
We were fortunate that Dr. Stephen Haber, distinguished professor at Stanford University and Senior Fellow at The Hoover Institution, was the guest speaker at our event. Dr. Haber discussed the recently released Innovate Alabama report on the importance of the state's outdoor recreational infrastructure and the tremendous potential Alabama has regarding its forested land and water spaces.
Surprisingly, compared to its neighboring states, Alabama has fallen short in benefiting from its economic development potential for outdoor recreation. We were extremely pleased to hear Dr. Haber highlight our Red Rock Trail System as an example that should be emulated throughout the state. His presentation showed our partners the significance their donations make in transforming Alabama's greenspaces.
The partners listed below support the enhancement of Central Alabama through land and water conservation, stewardship, and outdoor recreation. Freshwater Land Trust's success in protecting wildlife habitat, improving water quality, and creating trails and nature preserves for our communities is a direct result of the critical leadership and funding from our corporate partners. We could not achieve these meaningful advances without them!
We also want to thank Cahaba Brewing Company for hosting this year's celebration breakfast.
To learn more about our Corporate Partners for Conservation program, please call us at 205-417-2777.

SCARLET OAK
McWane, Inc.
Ram Tool Construction Supply Company
Vulcan Materials Company
Alabama Power Foundation
Birmingham Coca-Cola Bottling Company
Vulcan Value Partners

AMERICAN SYCAMORE
Altec-Styslinger Foundation, Inc.
Drummond Company, Inc.
Jemison Investment Company, Inc.
Alabama Allergy & Asthma
BCBS of Alabama The Caring Foundation
Spire Energy
Wiregrass Construction Company, Inc.

TULIP POPLAR
Wells Fargo Foundation
REI Co-op
Maynard Cooper & Gale
Westervelt Ecological Services
Regions Bank
Protective Life Foundation
Synovus Financial Corporation
Brasfield & Gorrie, LLC
Marx Brothers, Inc.
National Cement Company, Inc.
Altar'd State
EBSCO Industries
Terracon Consultants, Inc.

EASTERN HEMLOCK
Balch & Bingham LLP
Bradley
Colonial Pipeline Company
Cowin & Company, Inc.
Cowin Equipment Company, Inc.
M2 Ventures, LLC
ProAssurance Corporation
Bryant Bank
Birmingham Ultra Trail Society
Code-R Productions
Robertson Piano
Alvarez & Marsal Holdings, LLC
ArchitectureWorks
C Spire
Dynamic Civil Solutions
First South Farm Credit
Goodwyn Mills Cawood
Mazer Appliance
Medical Properties Trust, Inc.
United States Pipe and Foundry Company
Bass Pro Shops
DIX.HITE + Partners
Pearce, Bevill, Leesburg, Moore, P.C.
Cahaba Brewing Company
Gonzalez-Strength & Associates, Inc.