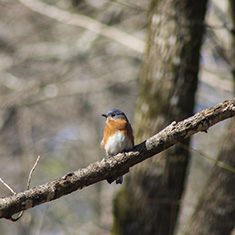 The Five Mile Creek District, made up of the cities of Brookside, Center Point, Fultondale, Gardendale, Graysville, and Tarrant, formed in 2002 as a regional effort to improve water quality and provide outdoor recreation in the Five Mile Creek watershed. Each city committed to working together to improve water quality in the Five Mile Creek watershed and to develop a series of parks and trails connecting Five Mile Creek communities and providing outdoor recreation in North Jefferson County. Since then, the District has secured county, state, and federal funds to conserve land, reduce flooding, lead large-scale cleanups, and develop parks and trails, in order to begin the transformation of Five Mile Creek into an environmental and recreational model.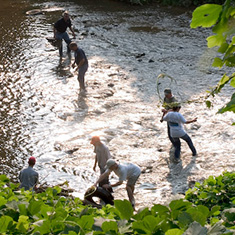 In July 2018, the District took a major step forward and purchased a 16.5-mile rail corridor from CSX to develop a rails-to-trails project spanning from Fultondale to Graysville. Currently, 5.5-miles of the Five Mile Creek Greenway Rails-to-Trails is open to the public, and the Five Mile Creek District hopes to add an additional mile in 2022.
At this time, the entire Five Mile Creek Greenway has 15.8 miles of greenway open to the public, including the Five Mile Creek Greenway Rails-to-Trails, with another 20 miles planned. The Five Mile Creek Greenway is the signature project of the Five Mile Creek District, and once complete, will be one of the longest trails in Central Alabama. By providing safe and efficient transportation links, encouraging exercise and outdoor recreation, and protecting natural resources, Five Mile Creek Greenway will enhance the quality of life for local communities.
Today, the District continues to develop, build, and maintain parks and trails in each of the towns along the shores of Five Mile Creek with the ultimate goals of improving water quality and stimulating economic revitalization and growth.