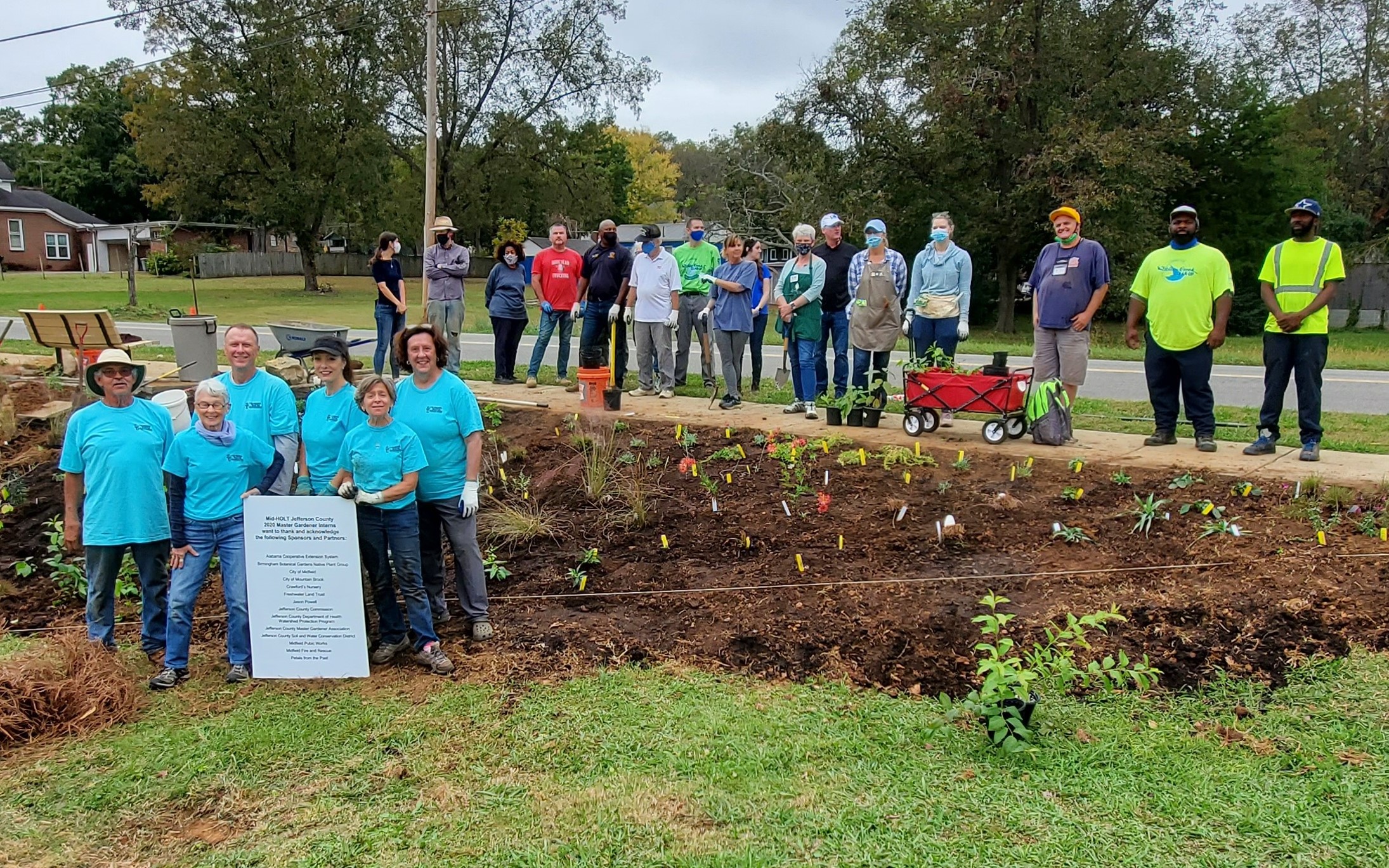 On November 7th, a team of six 2020 Master Gardener participants assisted the City of Midfield with a beautification project at the popular High Ore Line Trail.
For years, the City of Midfield Fire Department was searching for ways to improve a vacant lot next to the fire station, where the High Ore Line Trail begins. The site was considered an eyesore with poor stormwater infrastructure. To address these issues, the City of Midfield partnered with nine local organizations to conduct a beautification project that would transform the vacant lot into a large-scale pollinator and stormwater management garden.
Over the past nine months, six Master Gardener students worked with the City of Midfield, Alabama Cooperative Extension System, Freshwater Land Trust, Jefferson County Commission, Jefferson County Department of Health, Jefferson County Soil & Water Conservation District, and The Nature Conservancy to make the project a reality.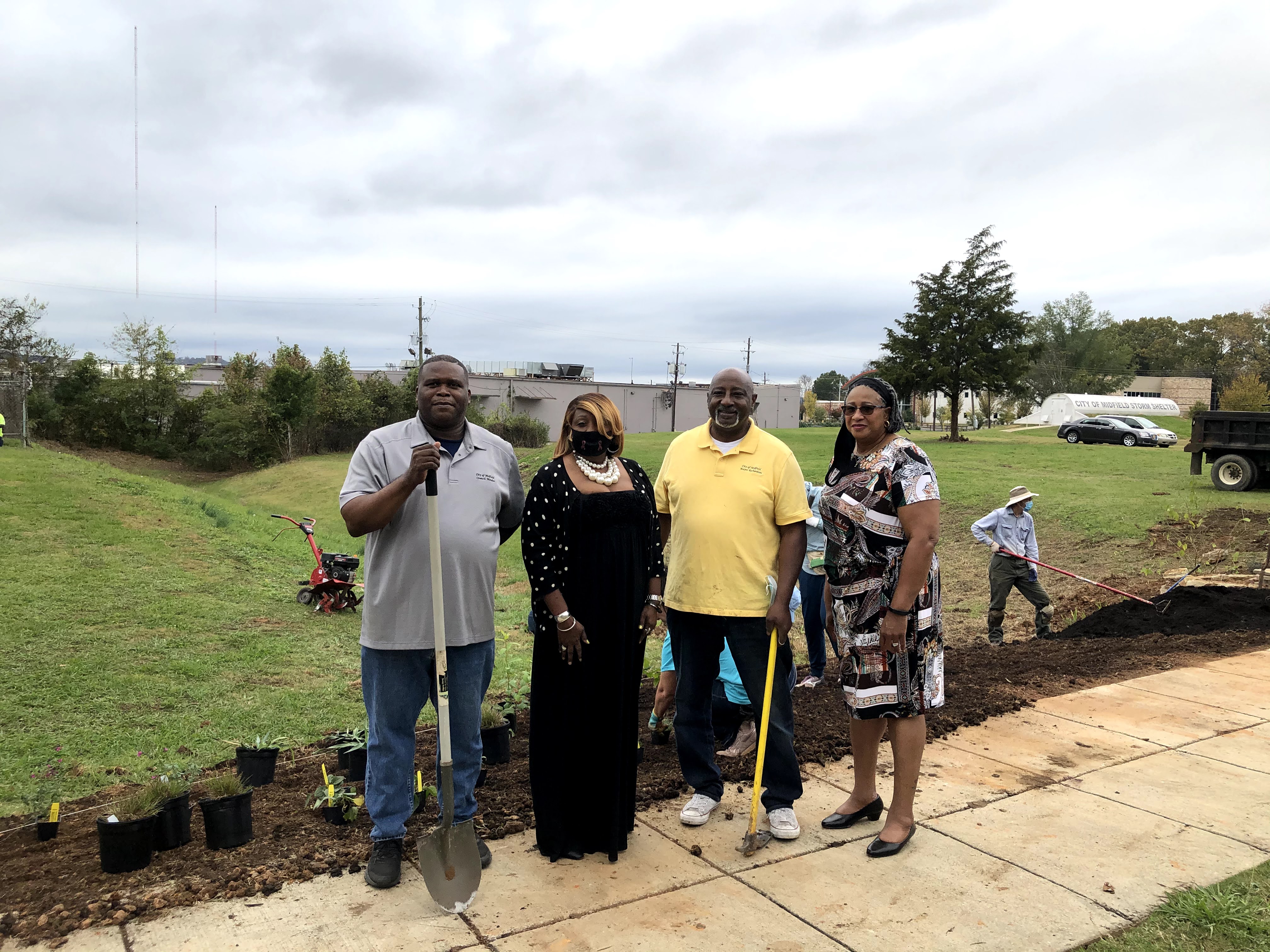 The vision for the project centered around using native plants, many propagated by interns and project participants in their home gardens, to create a multifunctional garden to enhance the trail user's experience, filter pollutants from roadway runoff, and attract pollinators. Despite several pandemic setbacks, the interns successfully planned and planted the High Ore Line Garden, meeting the objectives of the Master Gardener course and learning that teamwork and flexibility are essential skills for any gardener.
To better allow for people to enjoy the beauty and tranquility provided by the High Ore Line Garden, the City of Midfield installed a seating area. The City considered trail users of every age and ability when designing the seating area, installing a Freshwater Land Trust donated bench on a concrete pad to provide a stable surface with room for wheelchairs and strollers to park alongside it.
Planting day was an exciting opportunity to bring together Midfield residents and participants from each of the partner organizations. Over 25 people rolled up their sleeves to plant the first phase of the High Ore Line Garden and were treated to a homemade BBQ lunch cooked by the City of Midfield's firefighters.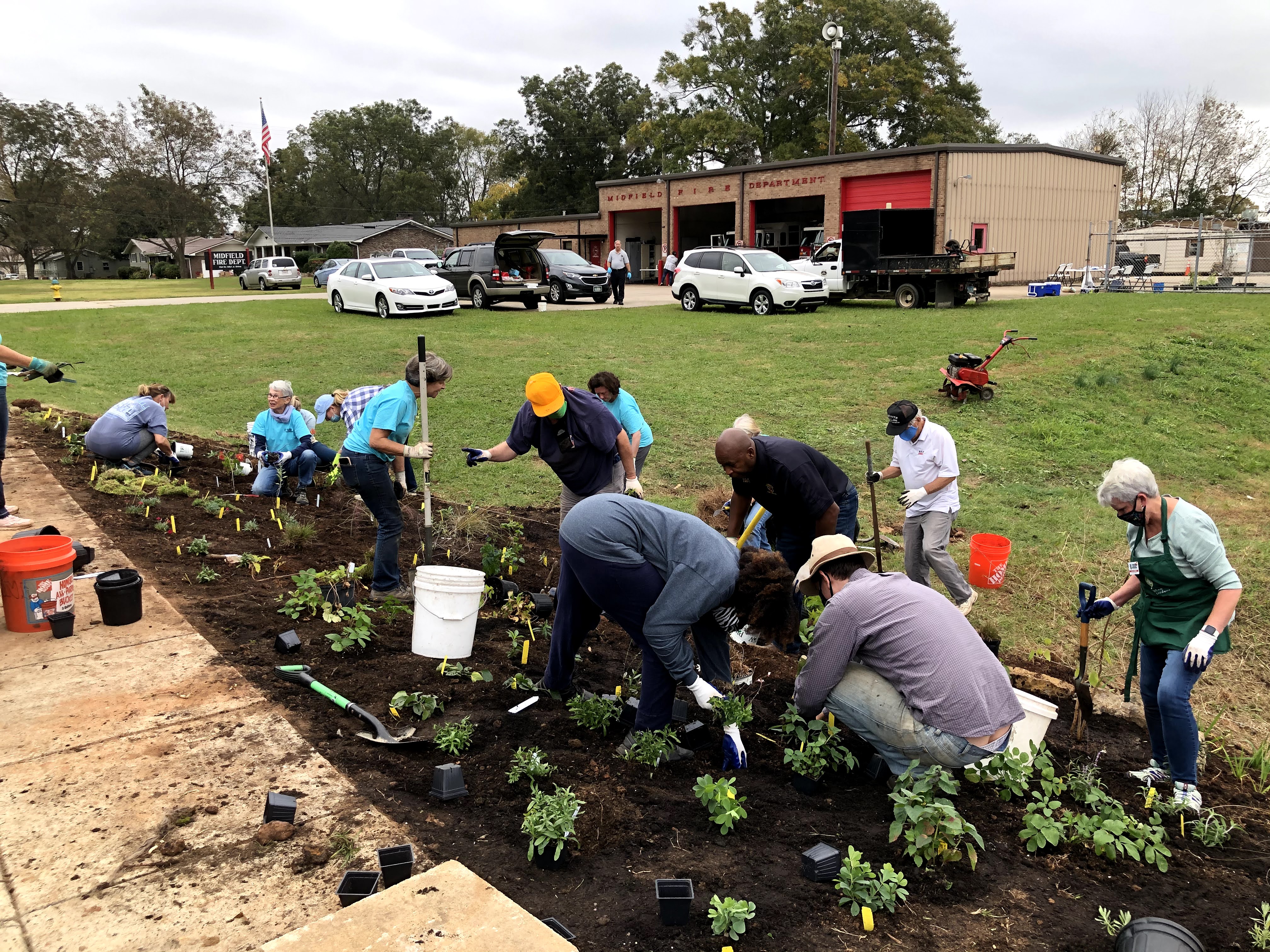 The High Ore Line Garden is a wonderful example of collaborative, long-term projects benefitting the residents of Jefferson County. The City of Midfield has committed to assist in the care of the garden, including the Fire Department offering their services, and hoses, to keep the garden watered! Likewise, the Master Gardener program has pledged to assist with weeding and caring for the project to ensure that it can be enjoyed by visitors for seasons to come.
To visit the garden, parking is available at Jefferson County Department of Health – Western Health Center at 631 Bessemer Super Highway. Follow the sidewalk, and you won't miss it!
A big thank you to the partners and sponsors that made this project a reality!
Alabama Cooperative Extension System
Birmingham Botanical Gardens Native Plant Group
City of Midfield
City of Mountain Brook
Crawford's Nursery
Freshwater Land Trust
Jason Powell
Jefferson County Commission
Jefferson County Department of Health Watershed Protection Program
Jefferson County Master Gardener Association
Jefferson County Soil and Water Conservation District
Midfield Public Works
Midfield Fire and Rescue
Petals from the Past