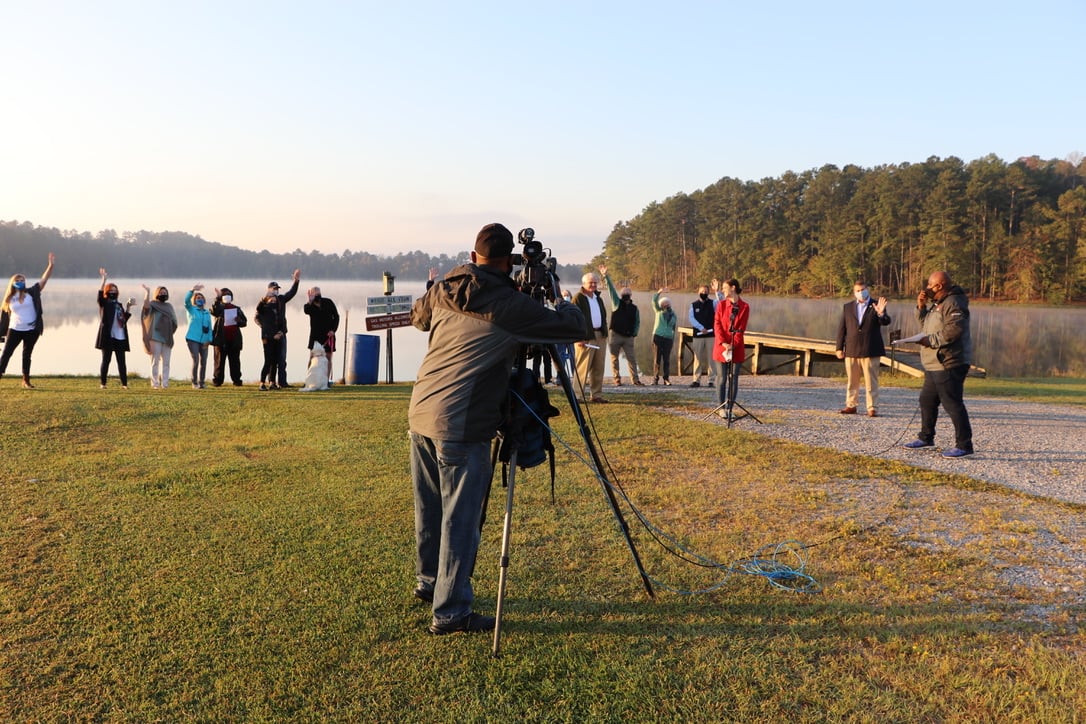 Walker County Lake, located off I-22 and approximately 10 minutes from Jasper's Main Street, is one of Central Alabama's best kept recreational destinations. Offering a variety of activities including fishing, walking trails, picnicking, birding, and archery, Walker County Lake has something for everyone.  
The development of Walker County Lake has been a passion project of several organizations and community members over the past few years. Loved by residents due to its natural beauty and ability to provide a variety of recreational opportunities for Central Alabamians, a strong partnership has formed over the last few years to highlight and develop Walker County Lake into a quality recreational destination.
Thanks to the hard work of the Walker County Health Action Partnership, City of Jasper, Alabama Department of Conservation and Natural Resources, Rotary Club of Jasper, Walker Area Community Foundation, and the Boy Scouts of America, Walker County Lake has a nearly one mile walking trail, wheelchair accessible archery park, and a new attraction called the Eagle's Nest that gives visitors a unique vantage point to observe two bald eagles that call Walker County Lake home. In addition, as one of the 23 public fishing lakes that are owned by the Department of Conservation and Natural Resources, Walker County Lake allows amateur trout fishermen and women to enjoy a sport that is traditionally reserved for professionals.
Despite Walker County Lake already serving as a top attraction for Jasper residents, these dedicated partners are committed to expanding its success. Walker County Health Action Partnership Vice President for Community Impact, Elyse Peters said, "We love the lake and want to continue to make it enjoyable for as many users as possible. The Health Action Partnership is committed to implementing a long-term master plan that includes expanding the current trail so that it makes a complete loop around the lake and explore additional amenities and connections that will allow more users to access the lake."
Walker County, a rural area with avid hunters and fishermen, has diligently worked to create experiences that speak directly to its citizens. "Walker County is a fantastic example of community leaders acknowledging the unique interests of the people they serve and creating amenities to meet their needs," said Rusha Smith, Executive Director of Freshwater Land Trust. In fact, Freshwater Land Trust has been so impressed by the work in Walker County that the lake was featured on October 6th's Red Rock Tuesday, making Walker County Lake the first outdoor recreation venue in six years where the Red Rock Tuesday crew showcased trails outside of Jefferson County.
As the temperatures drop and the leaves change, consider visiting Walker County Lake for a perfect getaway close to home! You should definitely try to go see it!