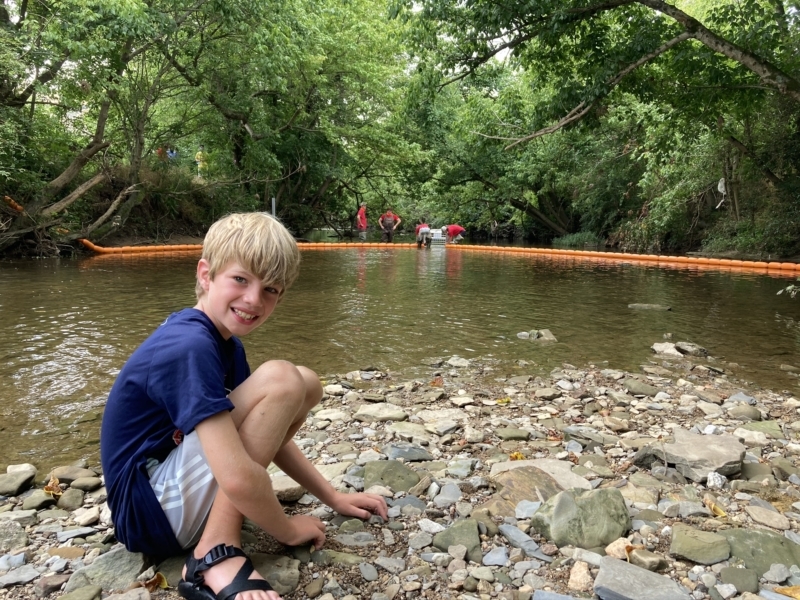 Freshwater Land Trust is excited to officially launch Project Litter Gitter and install five new litter gitter devices in conjunction with the EPA's Trash-Free Waters grant, recently awarded to Freshwater Land Trust and partners.
The five new devices are located across four municipalities: one each in Bessemer, Homewood, and Vestavia Hills and two in Birmingham.
These litter gitters join an existing device in Birmingham and an existing device in Homewood, for a total of seven litter gitters in the Cahaba River and Black Warrior River watersheds.
Litter gitters are in-stream trash collection devices used to intercept floating litter from stormwater runoff. Osprey Initiative, creator of the litter gitter, empties the devices on a weekly or bi-weekly basis and recycles as much of the trash as possible.
The major goals of Project Litter Gitter are to remove trash in or about to enter local waterways, to reduce future litter, and to educate the community about the importance of trash abatement and clean water.
In December 2019, Birmingham's first litter gitter was installed at the headwaters of Valley Creek as part of a three-month pilot project between FLT, Osprey Initiative, and River Network. The device trapped an average of 50 pounds of litter a month of which about 40% was recycled. The EPA grant will continue to fund this Valley Creek device, in addition to the five new devices.
"This is a game-changing project and a tremendous opportunity to clean up our waterways and emphasize the importance of litter control," said Rusha Smith, Freshwater Land Trust Executive Director.
Project Litter Gitter extends beyond the devices funded by the EPA. Recently, the City of Homewood funded their own litter gitter on Griffin Brook and is challenging other municipalities to follow suit.
We are working with partners to identify opportunities for additional litter gitters throughout Central Alabama. If you are interested in supporting Project Litter Gitter, please contact Sally LaRue!
Project Litter Gitter partners include: Cahaba Riverkeeper; Black Warrior Riverkeeper; the Cities of Birmingham, Bessemer, Homewood, and Vestavia Hills; Village Creek Society; the Jefferson County Department of Health; and the Jefferson County Department of Development Services.