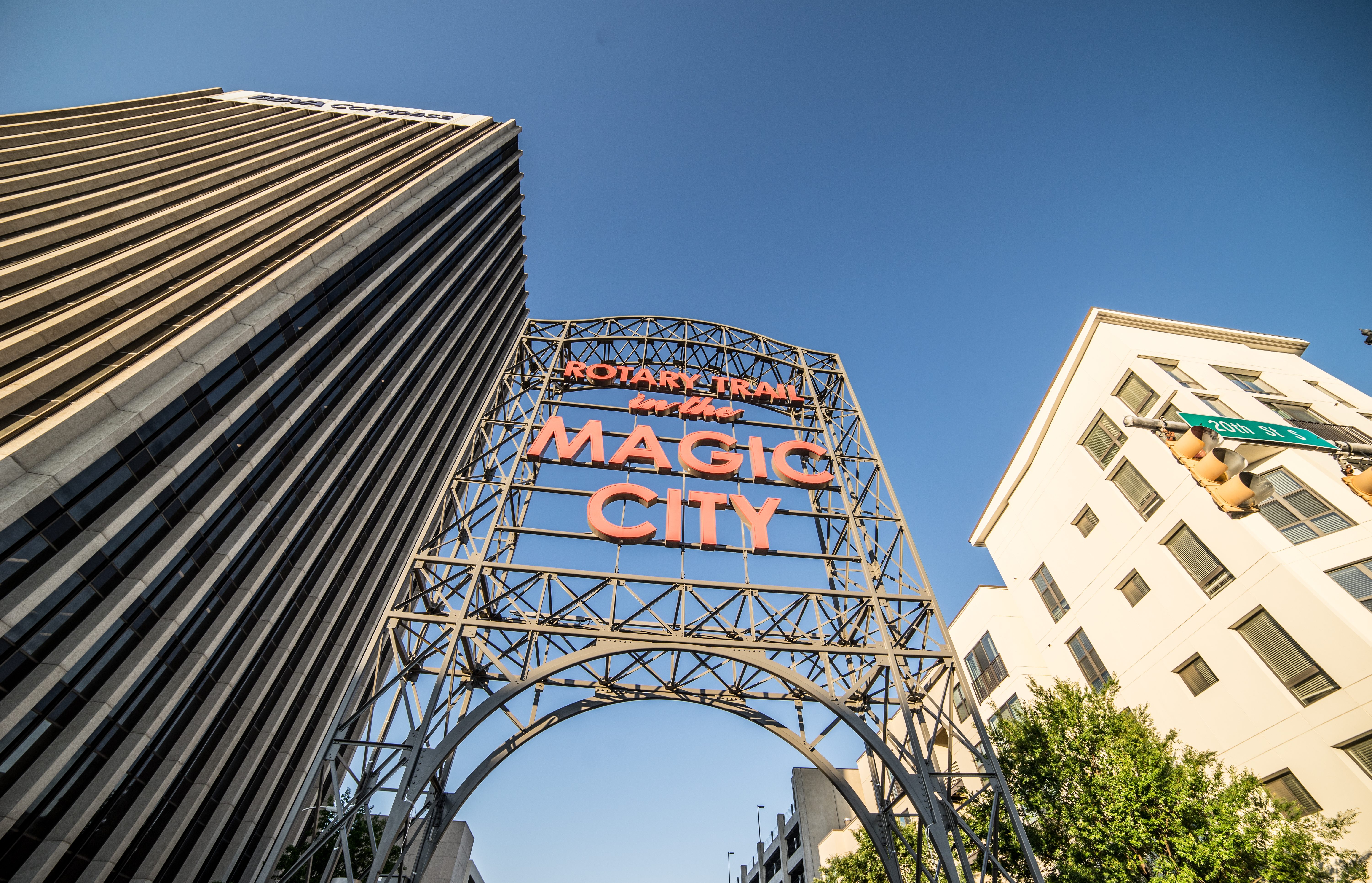 By: Libba Vaughan, Executive Director
For a girl who grew up in small town Guntersville, Alabama, Birmingham was my New York City. It was a Really. Big. Deal. to visit Birmingham. For years, I thought it was called "the Magic City" because of the magic I felt when the skyscrapers of Birmingham loomed into view when my parents' car got to I-20/59. So big!
Now, I get to work in downtown Birmingham. Every morning I park my car near Morris Avenue, watch the trains rumble through, greet the downtown loft dwellers walking their dogs, and walk up to my office on First Avenue North. I love this city, and I love that I get to make it even more magical through the Freshwater Land Trust's work in land conservation and Red Rock Trail System development.
When friends from other cities come to visit me, I of course force my city upon them. And they always love it, without exception. But, it would also be fun to enjoy this city with the mom in your life this Saturday on beautiful Mother's Day weekend. So, take her out to your city. Here's one way you can spend the day:
Start a little before lunchtime at Paramount Bar and Grill (200 20th Street North at the corner of 2nd Avenue North). Walk there from wherever you are, or park your car somewhere around there. You won't need it until this trip is over. Get the Greek salad or hamburger. Delicious. Send any kids to the back room with some dollar bills so they can play Centipede and Walking Dead pinball.
Walk two blocks over to the Pizitz Food Hall (1821 2nd Ave N). Take a lap around the busy room, buy a drink from the Louis, and sit at the bar or go sit outside to catch up some more and watch the people. You will always see someone you know and many you don't. Before you leave, buy a mango paleta from Lichita's.
As you consume that mango popsicle, walk south on 19th Street and admire the beautiful new multi-modal transportation center, and the old bridge you'll walk under. Take a right on First Avenue South and walk a block until you get to Railroad Park on your right. Take a long, leisurely loop around the park, and I promise you will feel better about most things after you do it. Know that you can't have a great city without (at least) one great park, and Birmingham has this one AND Red Mountain Park, Ruffner Mountain Nature Preserve, Vulcan Park and Museum, the Birmingham Botanical Gardens and the Birmingham Zoo, and 100+ terrific neighborhood parks sprinkled across the city. Incredible!
Wander across 19th Street and look at the Birmingham Barons stadium. They aren't playing at home this weekend, but make a point to return to a game. You don't have to like or even understand baseball to have a great time. When you return, watch a few innings, root for the taco in the Fast Food Race, wear the kids out at the in-park playground, and take a lap around the concourse. You'll love the Barons and wish you had an apartment that overlooks the stadium.
From there, you can go next door into the incredible Birmingham Negro Southern League Museum (120 16th St South). Did you know that more former Negro League players reside in Birmingham than anywhere else in the country? Wander across 14th Street South to Good People Brewery (114 14 St S). I love the lighter Bearded Lady (a beer, not a person) and your mom will too.
When you're ready, walk back up First Avenue South all the way to the entrance of Rotary Trail at the intersection of 1st Ave S and 20th Meander down this stunning trail. At this point, your mom will think she did a really good job raising you. You can go all the way down to 32nd Street. Look across First Avenue and see where the trail will continue on. If you're really lucky, you'll run into a local historian/architect like Cheryl Morgan, who lives near the trail, and you can eavesdrop as she tells other passers-by or tour groups about the buildings around the trail and the trail design. You'll plan to take or wish you had taken more art history and architecture in college.
Come back to the trail entrance on 20th. Try to remember where your car is, and walk there. The mom in your life will love you (more). Happy Mother's Day!