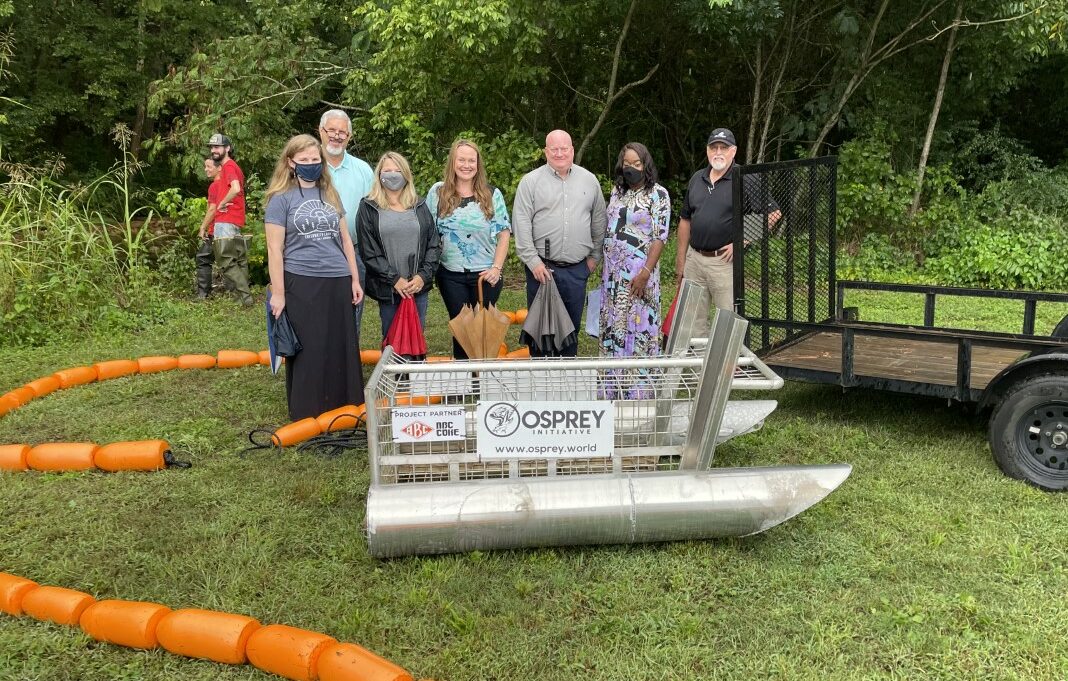 FOR IMMEDIATE RELEASE: 09/17/2021
Sally Sperling
sally.sperling@freshwaterlandtrust.org
205-417-2777
BIRMINGHAM, ALABAMA – On Thursday, September 16th, Project Litter Gitter partners installed a "litter gitter" device in Five Mile Creek at Chief William C Hewitt Park in Tarrant, Alabama.
ABC Coke, a division of Drummond Company, is sponsoring the litter gitter for one year. This is the 11th litter gitter in Jefferson County and the first in Five Mile Creek and Tarrant.
"Our sponsorship of this litter gitter will not only reduce litter in Tarrant, but the debris that is removed from the creek here will not continue down river to the Gulf of Mexico, which is a win for everyone in Alabama," said Scott Castleberry, President of ABC Coke. "It's our hope that this highly visible device here in this public park will serve as a reminder to everyone as to how litter affects all of us in our waterways."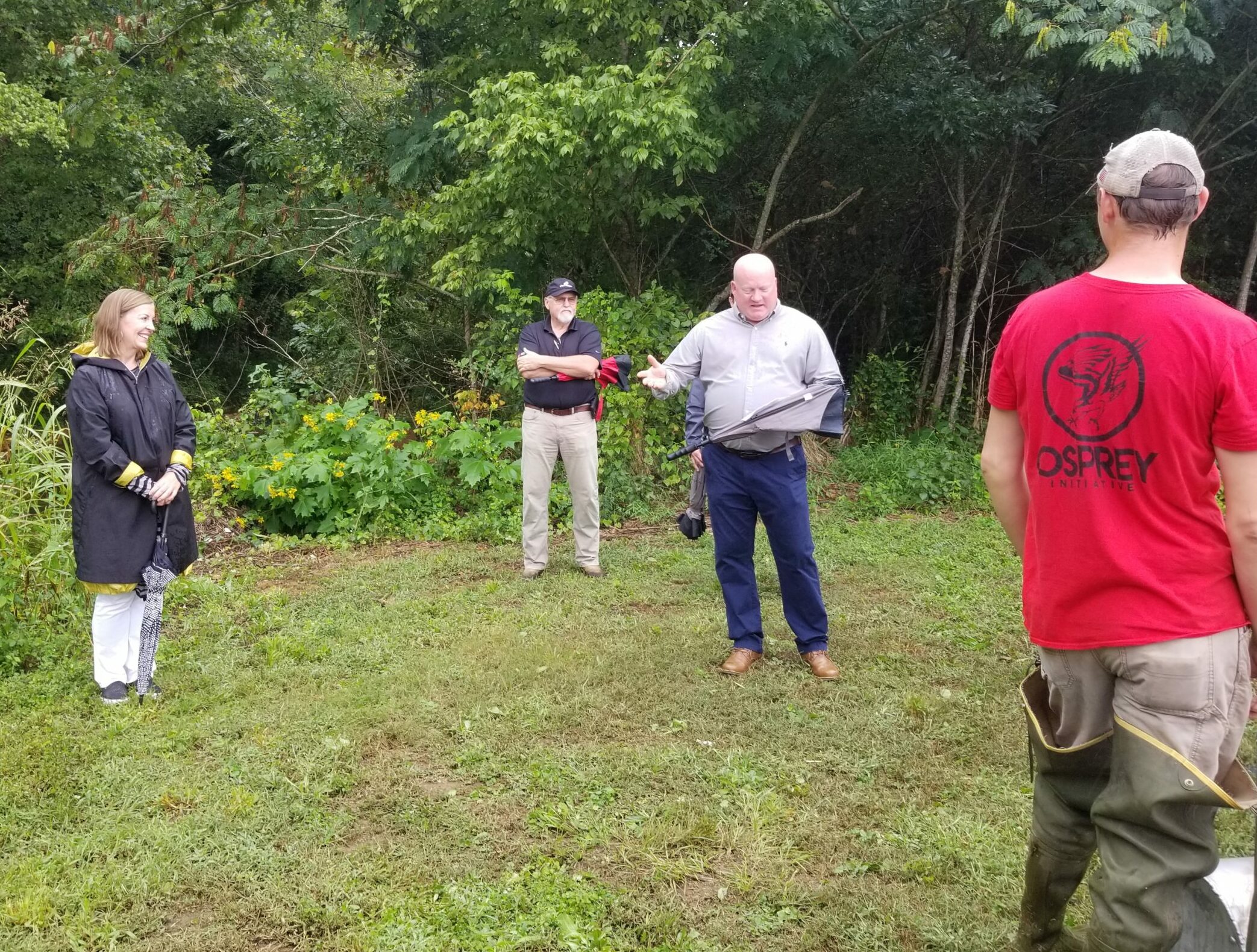 Attendees of the installation event included Tarrant's Mayor Wayman Newton, City Councilor Veronica Freeman, other City of Tarrant representatives, ABC Coke and Drummond Company representatives, Freshwater Land Trust staff, Osprey Initiative, Jefferson County Department of Health, press, and other partners.
Rusha Smith, Freshwater Land Trust's Executive Director, said the installation of the litter gitter is an opportunity to celebrate National Clean-up Day on Saturday, September 18th and another great partnership opportunity with the City of Tarrant.
"This is a huge day for us because we are approaching 12,000 pounds of trash removed by litter gitters since December 2019 in Jefferson County," said Smith. "We are really making a difference with this project. We've had a long relationship with the City of Tarrant as an organization, and it makes us very happy and proud to have this here."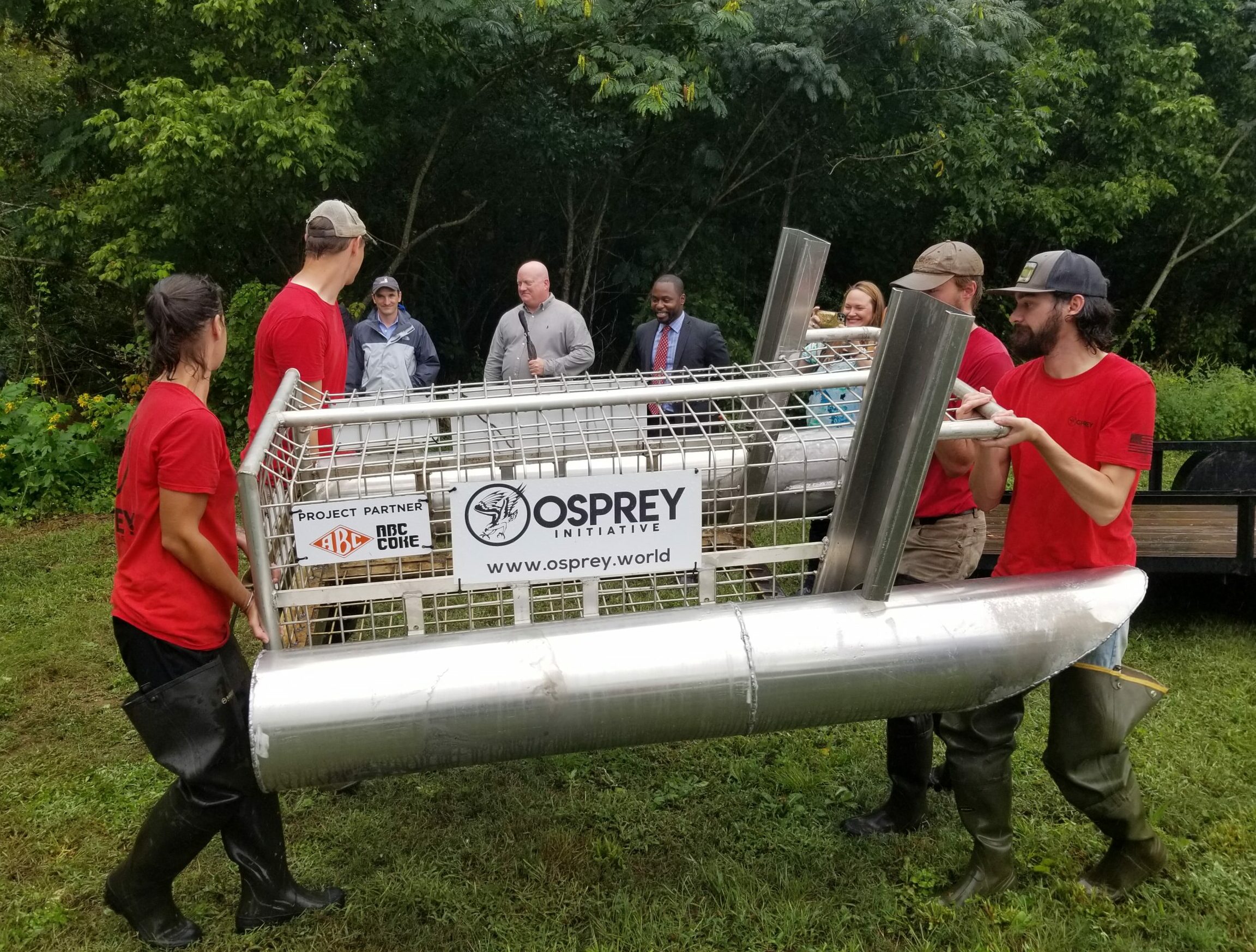 Litter gitters are in-stream trash collection devices used to intercept floating litter from stormwater runoff. In addition to installing and maintaining the litter gitters, Osprey Initiative, the litter gitter contractor, collects the trash in each device on a weekly or bi-weekly basis and recycles as much of the trash as possible. They also perform tactical clean-ups at litter gitter locations, collecting trash 100 yards upstream and downstream of the traps.
Other litter gitters in Jefferson County are in Valley, Village, Shades, Little Shades, Pinchgut, and Griffin Creeks. Project partners include Black Warrior Riverkeeper, Cahaba Riverkeeper, Jefferson County Department of Health, Birmingham Coca-Cola Bottling Company, Coca-Cola Foundation, River Network, Village Creek Society, Jefferson County Conservation District, and the Cities of Homewood, Birmingham, Bessemer, Vestavia Hills, Brighton, and Trussville.
Freshwater Land Trust continues to lead Project Litter Gitter to facilitate cleaner waterways. To learn more about the project or to sponsor a litter gitter, visit freshwaterlandtrust.org/litter-gitters.