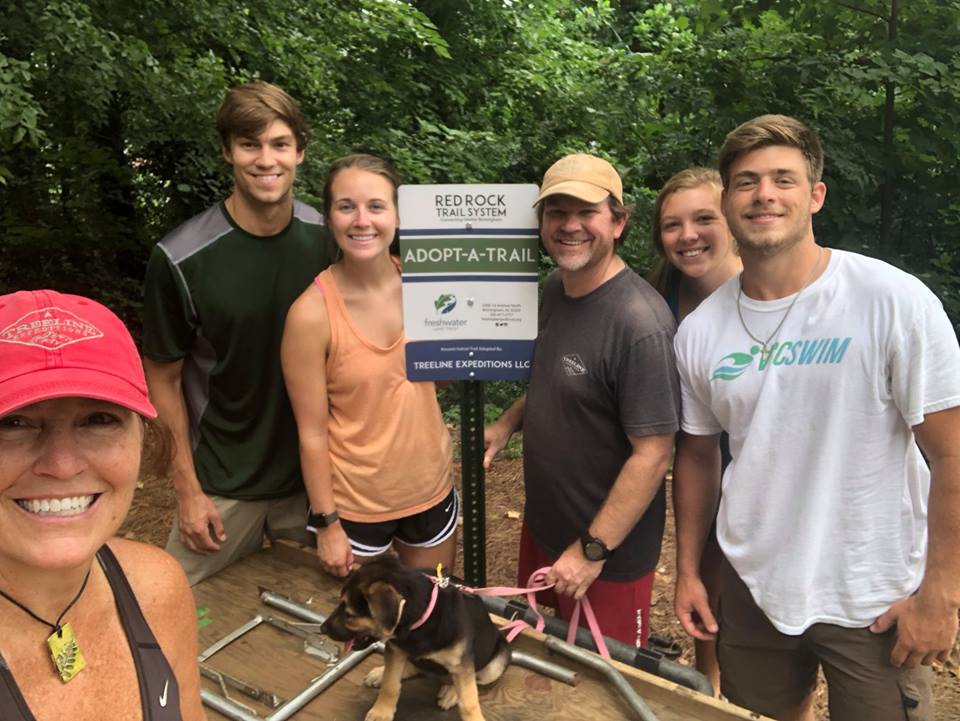 In January 2018, we launched our Adopt-a-Trail program, a volunteer initiative supporting Red Rock Trail System. Volunteer groups take care of their adopted trail by removing litter, raking leaves, pruning and weeding, and performing other light maintenance tasks. Groups also have the opportunity to lead beautification, art, or planting projects.
Adopting a trail is a fantastic way to make Birmingham a cleaner, greener, more beautiful place. As a volunteer, you serve as an ambassador for your community's existing and future trails. Plus — your group has a regular excuse to spend time together outside in the fresh air and sunshine!
Freshwater Land Trust provides volunteers with training, work supplies, and ongoing support.
Current Adopt-a-Trail Partners
Dynamite Hill-Smithfield Community Land Trust: Enon Ridge Trail (1 mile)
Goodwyn Mills Cawood (GMC): Jones Valley Trail (0.6 miles)
Treeline Expeditions LLC: Kiwanis Vulcan Trail (1 mile)
ROAM Projects: Kiwanis Vulcan Trail (1 mile)
Cahaba Riverwalk Trail Initiative (0.5 miles)
William Harris: Clairmont Walking Trail (0.5 miles)
The Rotary Club of Birmingham: Rotary Trail
Homewood High School Environmental Club: Shades Creek Greenway (1 mile)
Spain Park High School Key Club: Veteran's Park Trail (2 miles)
Core Chiropractic and Fleet Feet: Shades Creek Greenway (2 miles)
Sentry Heating and Air: Little Shades Creek Greenway (2 mile)
AdventureKEEN: High Ore Line Trail to Red Mountain Park (1 mile)
Birmingham Ultra Trail Society: Boulder Canyon Loop Trail (1 mile)
In Memory of Remmi: McCallum Park
Who Can Volunteer
Neighborhoods, scout troops, businesses, book clubs, families — groups of all kinds! We recommend that your group include at least three people.
Time Commitment
Each group commits to at least two hours of work, every other month, for one year.
How To Apply
Email rebekah.correia@freshwaterlandtrust.org for more information.