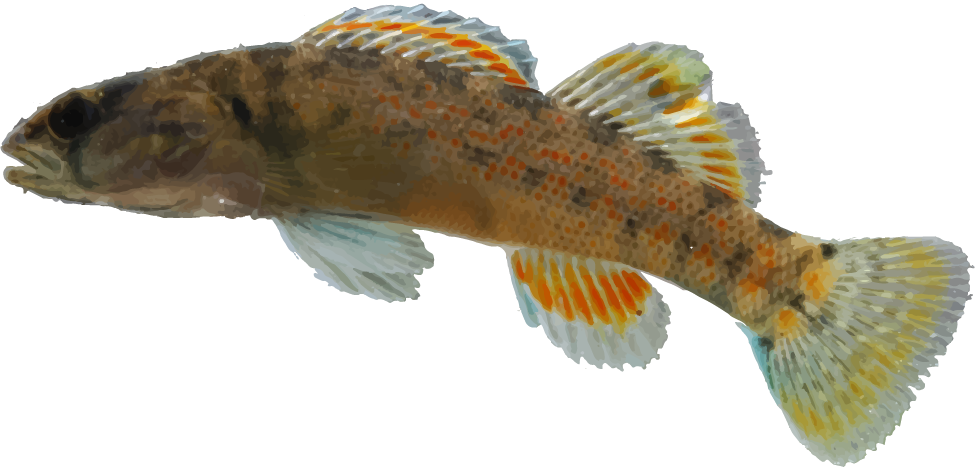 In a small watershed in northwest Jefferson County lives a tiny, vibrantly colored fish found nowhere else on earth.  The Vermilion darter (Etheostoma chermocki), inhabits now a 9 mile stretch of Turkey Creek downstream from Shadow Lake. In the late 1990s, researchers noticed a precipitous drop in the population of these bottom-feeding fish. As a result, the Vermilion darter was listed as a critically endangered species in 2001.
Ten years later, the U.S. Fish and Wildlife Service (USFWS) identified critical habitat for this unique fish, as well as serious threats to its survival.  One of these threats was the existence of 5 separate man-made lakes and ponds along Turkey Creek, whose dams prevented the fish from freely moving between spawning and feeding areas.
Freshwater Land Trust (FLT), along with a host of local and regional corporate and agency partners including USFWS, Alabama Department of Conservation and Natural Resources (ADCNR), the National Fish and Wildlife Foundation (NFWF), and Action Environmental helped make Turkey Creek a more hospitable home for these fish by removing one of these dams. The dam, built in the 1920s, was located within a 226-acre FLT preserve high in the Turkey Creek watershed. This dam not only made it impossible for darters to move through a segment of the creek, it caused portions of the creek to fill with silt, degrading the habitat downstream and threatening the only known spawning site for the fish, near Tapawingo Springs.
The removal of the dam was only the beginning, however. The path the creek now flowed along had been at the bottom of a lake for nearly 100 years. Without plants to hold the loose soil in place, the creek and the Vermilion Darter could have fallen victim to the sediment pollution the dam removal had been intended to avert. In order to protect the now free-flowing stream, FLT, Jennings Environmental, and Father Nature Landscapes partnered on a stream and bank restoration project funded by USFWS and NFWF intended to protect the darter's habitat in this section of Turkey Creek. This entailed improving the flow of the creek to prevent further erosion, and planting native flora to ensure soil stayed on the creek's banks, instead of washing into its waters.
These projects are part of a broader partnership between the FLT, USFWS, and Turkey Creek Nature Preserve to help the Vermilion darter. This includes a recovery plan that USFWS has authored for the fish that identifies steps to expand their potential habitat in the watershed. Protecting water quality through streamside land acquisition, educating the public about the importance of clean rivers and streams, and publicizing the tiny, rainbow-hued fish are all vitally important to facilitating the recovery of their population and their continued place in our local ecosystem. These efforts not only help preserve critical habitat for the Vermilion darter, they also improve the quality of habitat for all creatures throughout the Turkey Creek watershed and northwest Jefferson County.