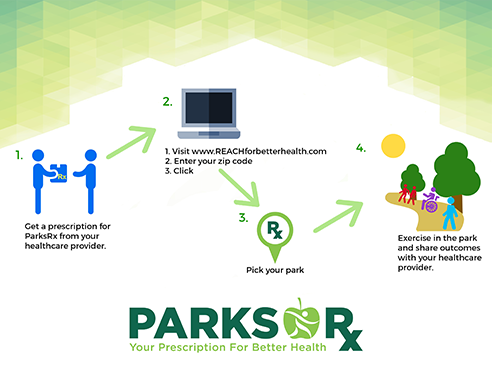 Next week, October 4, we will be filming our October segment of Red Rock Tuesday featuring Parks Rx. This new program was officially launched by Birmingham REACH for Better Health on September 22. The Parks Prescription program, which is led by the UAB Minority Health and Health Disparities Research Center, is an initiative to increase access to healthy food choices and opportunities for physical activity within the Birmingham community.
Parks Rx is funded by the Centers for Disease Control and has been modeled after other successful initiatives in the United States. Through this new program, patients are connected to more than 100 parks in Birmingham and its surrounding communities. After patients receive a healthy living prescription, they will be directed to the Parks Rx website with an interactive map and information on all local parks and green spaces nearest them.
Parks Rx came to fruition through the efforts of Freshwater Land Trust, Jefferson County Department of Health, Birmingham Parks and Recreation and UAB MHRC all working together with the REACH coalition. After studying similar initiatives from national partners, the National Land Trust Alliance, Kaiser Permanente, the Institute of the Golden Gate and others formed a larger network that focused on connecting people to the outdoors in hopes of combatting health disparities.
There is a definite connection between conservation and health and after piloting this program, hopefully it will expand to other local health providers in the Birmingham area. For more information, visit www.REACHforbetterhealth.com/parksrx.