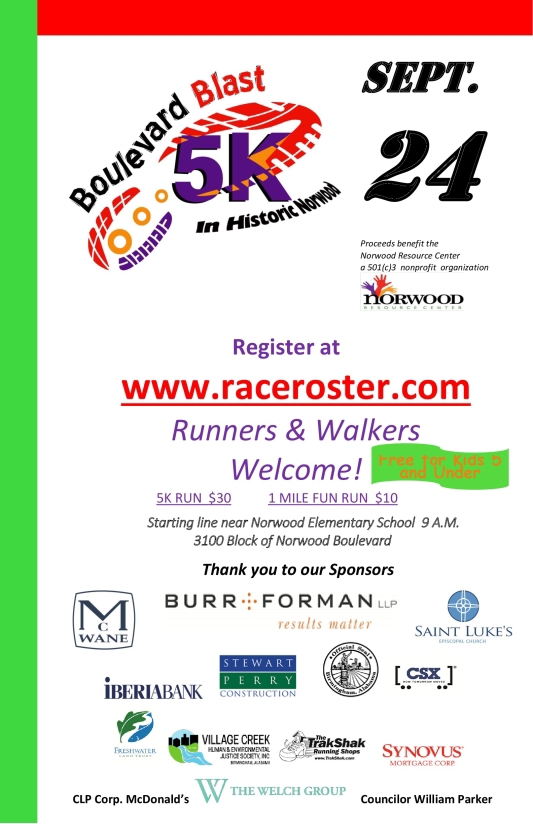 This coming Saturday, September 24, the Norwood Resource Center (NRC), a non-profit organization founded as a grassroots initiative, will be hosting its third annual Boulevard Blast 5K and Fun Run/Walk. All proceeds from this event will benefit the Norwood Resource Center and the residents of the Norwood Community. Norwood is a critical connection to the Red Rock Ridge and Valley Trail System, and is an example of a community who has champions parks and greenspaces in Birmingham.
The Freshwater Land Trust is excited to support the Norwood Resource Center through this event and promote the organization's mission of providing educational activities and services that improve the life conditions in the historic Norwood community of Birmingham.
The Boulevard Blast is a certified 5K run, which takes place along Norwood Boulevard. Its historic route has served as a symbolic thoroughfare of the neighborhood for more than 100 years. The 5K will begin at 9:00 a.m. and the Fun Run/Walk at 9:30 a.m. In addition to the two races, there will be activities for children, cooking demonstrations, and The Market at The Trolley Shop will be open and in full swing. To register for this event, please visit http://www.active.com/ and input Norwood Boulevard Blast to register and learn more about the 5K and Fun Run. Please come out and join us as we support the Norwood Resource Center this Saturday!