Freshwater Land Trust is proud to have played a significant role in the long-term conservation of Turkey Creek Nature Preserve (TCNP).
Turkey Creek, a tributary of the Locust Fork of the Black Warrior River, is located 20 minutes north of Birmingham near the community of Pinson. Turkey Creek is home to three endangered species of fish: the Vermilion Darter (Etheostoma chermocki), Watercress Darter (Etheostoma nuchale), and Rush Darter (Etheostoma phytophilum). The Rush and Vermilion Darters are only found in Turkey Creek and nowhere else in the world.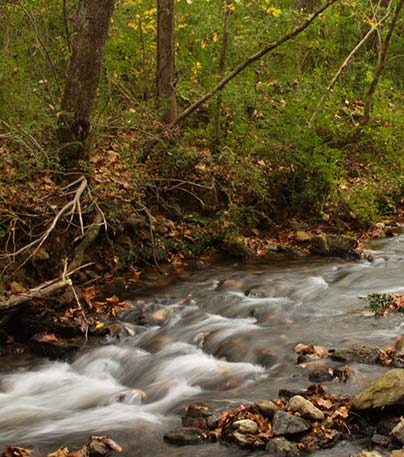 TNCP is an outstanding example of a private initiative to protect endangered species. FLT worked for two years to combine approximately $1.5 million from the Jefferson County Greenways Program with $750,000 in private landowner contributions to secure support from the Alabama Forever Wild Program, the U.S. Fish & Wildlife Service, Jefferson County and others to help establish the 700-acre Turkey Creek Nature Preserve and Greenways.
Today, Freshwater Land Trust's efforts have leveraged almost $10 million worth of conservation projects in the Turkey Creek watershed. TCNP is owned by Alabama's Forever Wild Program and co-managed by Forever Wild, Ruffner Mountain, a local community group named START (Society to Advance the Resources at Turkey Creek), and formerly Birmingham-Southern College. The tract is managed as a nature preserve and hosts a number of passive recreational opportunities including swimming, hiking, and nature photography.
To learn more about Turkey Creek Nature Preserve, visit https://turkeycreeknp.com/