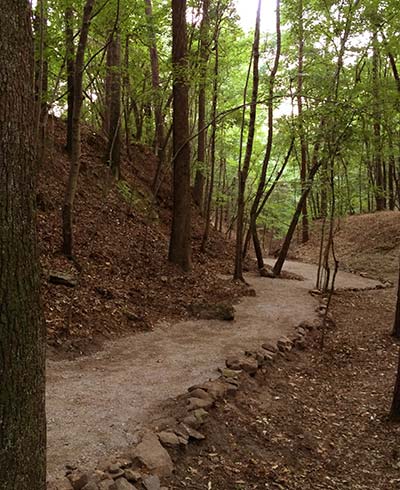 On January 28, 2005, Freshwater Land Trust and U.S. Steel announced one of the largest urban conservation efforts in Alabama's history. Freshwater Land Trust negotiated a two-year option from U.S. Steel to purchase the 1,108-acre Red Mountain Park in Birmingham. The property provides the opportunity to connect a 64-mile network of greenways that would allow a person to bicycle from Bessemer to Mountain Brook without ever encountering vehicular traffic.
This land, valued at $16.5 million, was optioned for two years at the discounted price of $7 million. Upon completion of the land purchase, U.S. Steel pledged an additional $1 million in cash for the development of park amenities, making this project the largest philanthropic gift in U.S. Steel's 100-year history.
Other major funders who made Red Mountain Park possible include: the Hugh Kaul Foundation, the Community Foundation of Greater Birmingham, the Jefferson County Commission, the Alabama Power Foundation, and federal funds secured through the incredible efforts of Representative Artur Davis, Senator Jeff Sessions, Representatives Spencer Bachus, and Senator Richard Shelby.
Today, Freshwater Land Trust is an enthusiastic supporter of Red Mountain Park and its management. Freshwater Land Trust is incredibly proud of having played an integral role in creating Red Mountain Park, and we thank U.S. Steel for giving us the opportunity to make it happen.
To find out more about Red Mountain Park, please visit redmountainpark.org.