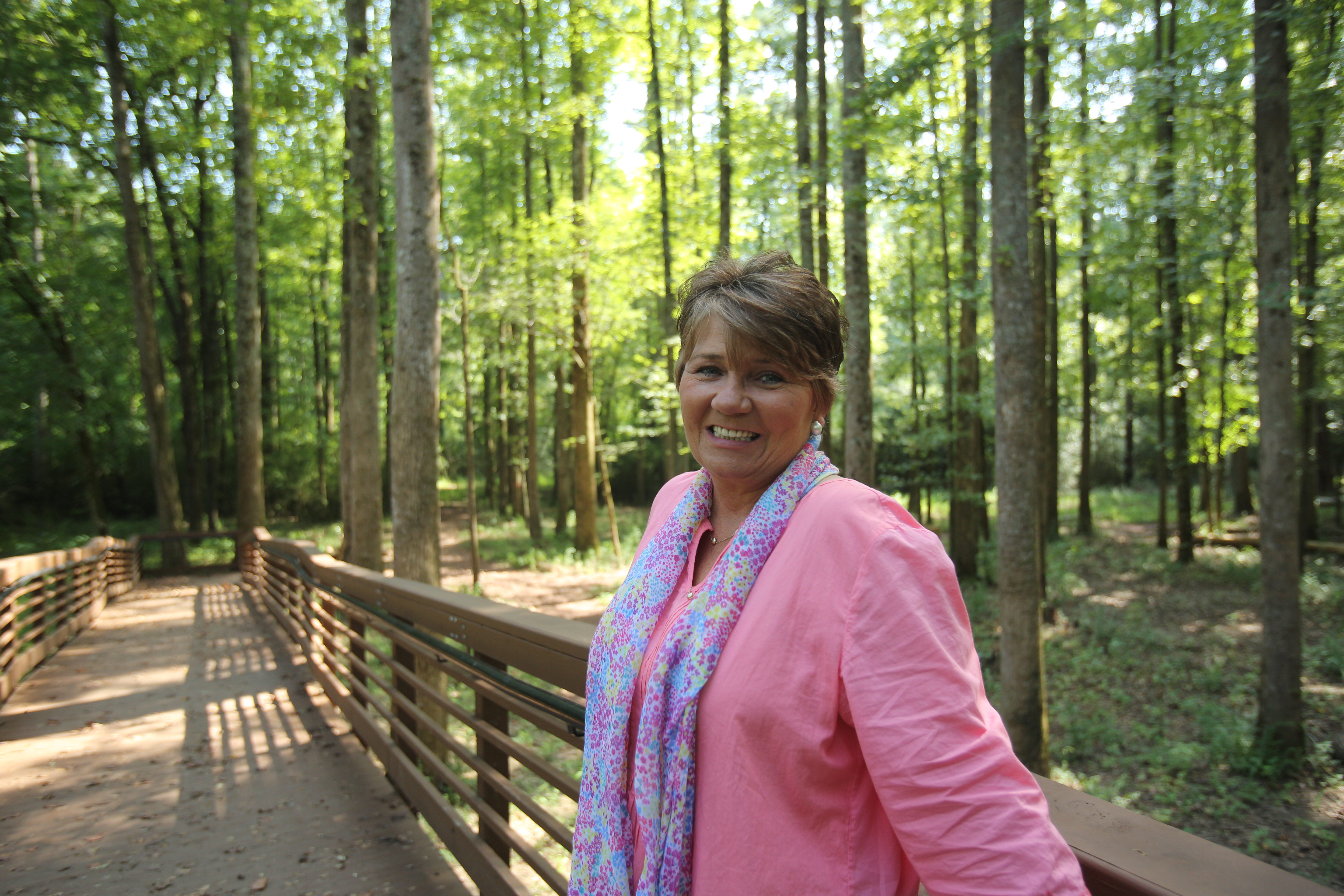 As we celebrate our 20th anniversary at the Freshwater Land Trust, we're taking time to reflect on our past success stories, while also looking to the future as we take a step into the next era of conservation. Over the course of the next few months, we'll give you interviews with the Land Trust's leadership, important figures and board members to get a glimpse at what their world was like twenty years ago and how conservation has impacted them. Kicking things off is our executive director, Wendy Jackson, aka "Mother Nature's Real Estate Agent!"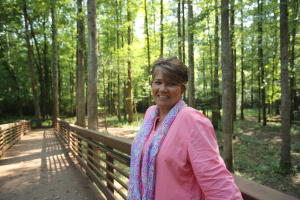 The year was 2001. In an office at the Nature Conservancy in Birmingham, Wendy Jackson met with a familiar face: Kevin McCauley, a former member of the Corps of Engineers who had served as the executive director of the Black Warrior-Cahaba Rivers Land Trust since 1998.
"There was this tag-team approach with Nim Long and Kevin McCauley about, 'Why don't you come work for the Land Trust?'" Jackson said. At this time, Jackson had been involved in the Land Trust, but wasn't a formal employee. However, with a vision in mind of growing the land trust's conservation footprint outside the Jefferson County Greenways Program, Jackson proved to be the perfect land lady for the job.
Jackson had participated in national policy discussions at the Nature Conservancy and was highly involved in projects along the Cahaba River, including the Cahaba River National Wildlife Refuge and the Bibb County Glades along the Little Cahaba's banks, one of Alabama's most biologically diverse locations. Her love for the Cahaba, combined with a desire to work locally in order to spend more time with her family, Jackson said, made the job a perfect fit.
"When Nim came, it was just a dream come true," Jackson said. "Coming to the Land Trust allowed me to do what I love, which is rivers and streams, to continue to do conservation, and do it locally with a local board."
Fifteen years later, as the organization – renamed the Freshwater Land Trust – continues to extend its reach across central Alabama, Jackson's role at the reins has allowed her to see increased awareness and enthusiasm about the Land Trust's work and a growing conservation ethic throughout the community, which she attributes to its approach of bringing people together around conservation.
"I used to go into meetings where you'd say, 'How many have heard of the Black Warrior-Cahaba River Land Trust?' and no hands would go up, and you'd have to explain, and even when we changed the name to Freshwater Land Trust, you'd still get one or two hands go up," Jackson said. "I went in this past year to two or three different meetings and asked, 'How many people have heard of the Freshwater Land Trust?' and watched 80 percent of the hands in the room go up."
Just as the ties between the Land Trust and the community have grown stronger in its 20 years of existence, Jackson's ties to nature and the outdoors have strengthened as well with the birth of her grandchildren. She said that when she first started at the Land Trust, she talked about doing this job to preserve places and a way of life that her family and countless others can hand down from generation to generation. Now, she said, she realizes how important that was.
"My son took my granddaughter to one of the places and she told me, 'Thank you Grammy,'" Jackson said. "To actually hear those words, 'Thank you Grammy,' from your grandchildren, and then you stand there and you're looking across the landscape and you know that these places will still be there thanks to the good leadership of the board and the staff that will come after me, there's… there's no words to describe that. It's an indescribable feeling."
It's this desire to leave an impact and to make a difference in the central Alabama landscape that fuels Jackson's passion for conservation. She attributes this, in a way, to taking on new projects head-on. It's the fearlessness this desire creates that comes through when, in response to a question about whether or not she would go back and give her past self any advice, she said no, because at times, ignorance can be bliss.
"Sometimes it's the challenge, and the unknown, and the not-knowing of things," Jackson said. "Like the Red Rock Trail plan: If someone had told me that 'this is the way you're supposed to develop a trail plan,' or 'this is the way it's supposed to work,' I think we wouldn't have had the genuine enthusiasm and it would've squelched the innovation. So my choice would be to let passion drive you, because that passion and that love generates innovation and thinking outside of the box. In fact, my advice to little Wendy back in the day would be to leave her alone," Jackson said. "She'll be alright."
For Jackson, however, one thing has remained the same: preserving land takes people who want to make a difference. Whether it's two miles on Double Oak Mountain or the four blocks of Rotary Trail, regardless of the project, people make it happen.
"It takes all these heroes, like Olivia & Jim Howard who donated land on the Cahaba River last year, to all of the great supporters for the Double Oak Mountain project, and the Rotary Trail. It's always these faces who make projects happen," Jackson said. "They never view themselves as heroes. But I'm able to watch, being in the position of facilitator and helping make these things come to the ground, and I'm able to watch and see how without every single person involved in a project, their role, the project wouldn't have happened. And it never, ever, ever, ever gets old."
As Jackson continues to lead the Freshwater Land Trust, she expressed gratitude for her experiences working with a wide range of people.
"The greatest gift in my life is the diversity of people I have met, and to know unequivocally that there are good people, from all walks of life, who just want to make a difference and who will help you make a difference if you include them in the discussion," Jackson said. "If you look at the Red Rock Trail plan, 3,000 people from every neighborhood in Jefferson County showed up to make a difference – we had rural citizens, we had small town citizens, we had big-city citizens, we had all ethnicities, all religions, coming together around the betterment of our community. I have been fortunate and lucky to have been able to spend my life working with people from all walks of life, and knowing that anybody can be the next hero, any minute of any day."